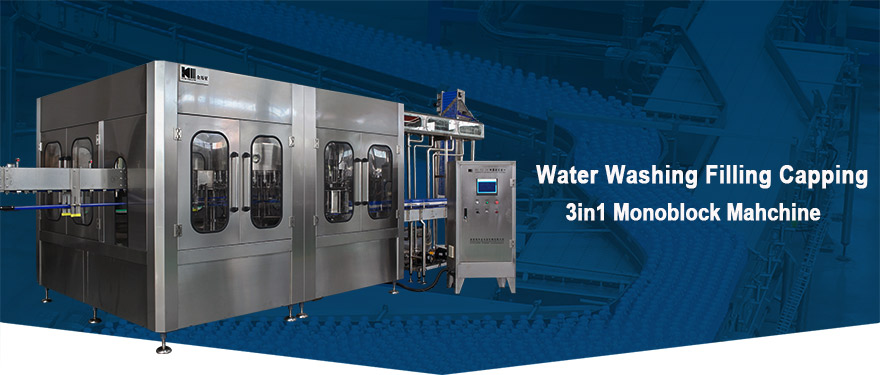 Automatic Mineral Water Bottling Plant Cost


Water is a multifacted product: natural spring water, purified water, carbonated water,flavored water... What process can be used to prevent bromate formation? How to deploy mechanical filling valves to keep water crystal clear and contaminant free? How to achieve the maximum benefit with speed, accuracy and light weight bottles? King Machine, the expert in liquid product filling, will always provide you with the best solution for your products.
Project name :Cost of pure water bottling machine

Model

CG8-8-3

CGF14-12-4

CGF18-18-6

CGF24-24-8

CGF32-32-10

CGF40-40-12

Capacity(500ml bottles)

2000

3000-4000

6000-8000

8000-12000

13000-15000

16000-18000

Suitable bottle shapes

PET circular or square

Bottle diameter(mm)

Dia50-Dia115mm

Bottle height (mm)

160-320mm

Compressor air pressure(Mpa)

0.3-0.7Mpa

Washing meidum

Aseptic water

Rinsing pressure(Mpa)

>0.06Mpa<0.2Mpa

Application

Bottle water filling machine

Total power (KW)

4.4

4.4

4.4

5.2

6.2

7.8

Overall dimensions(L*W)

2.3*1.9

2.5*1.9

2.8*2.15

3.1*2.5

3.8*2.8

4.5*3.3

Height

2.3m

2.5m

2.5m

2.5m

2.5m

2.6m

Weight(kg)

2500kg

3200kg

4000kg

4500kg

6500kg

8000kg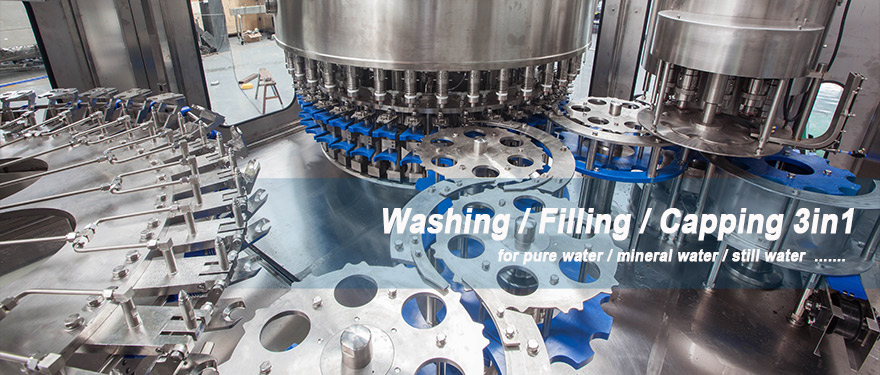 Automatic Mineral Water Bottling Plant Cost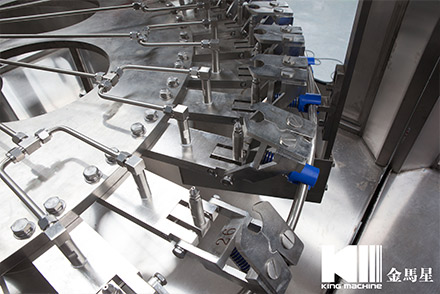 Washing heads.
*All 304/316stainless steel rinse heads, water spray style inject design, more save water consumption and more clean
*304/316 Stainless steel Gripper with plastic pad, ensure minimal bottle crash during washing
*304/316 stainless steel washing pump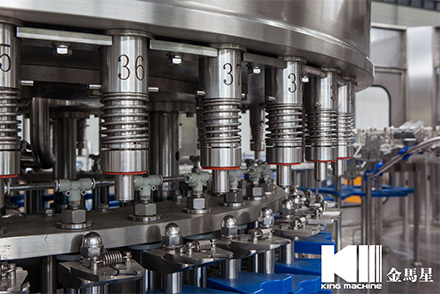 Filling heads
*304/316 Stainless steel high precision filling nozzle
*Filling volume adjustable in fine rank, same liquid level after filling
*All 304/316 stainless steel contact parts & liquid tank, fine polish, no death corner, easy to clean
*304/316 stainless steel filling pump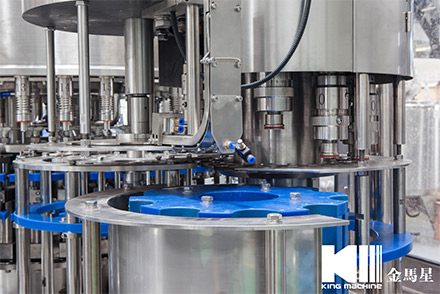 Capping heads
*Place and capping system, electromagnetic capping heads, with burden discharge function, make sure minimum bottle crash during capping
*All 304/316 stainless steel construction
*No bottle no capping
* Automatic stop when lack of bottle.
Main Features.
1. Using the wind sent access and move wheel in the bottle directly connected technology; canceled screw and conveyor chains, this enable the change the bottle-shaped become easier. 


2. Bottles transmission adopt clip bottleneck technology, bottle-shaped transform not need to adjust the equipment level, only change related the curved plate, wheel and nylon parts is enough.. 


3. The specially designed stainless steel bottle washing machine clip is solid and durable, no touch with the screw location of bottle mouth to avoid secondary pollution. 


4. High-speed large gravity flow valve filling valve, filling fast, filling accurate and no liquid lose. 


5. Spiraling decline when output bottle, transform bottle shape no need to adjust the height of conveyor chains. 


6. Host adopt advanced PLC automatic control technology, the key electrical components from famous company such as Japan's Mitsubishi, France Schneider, OMRON.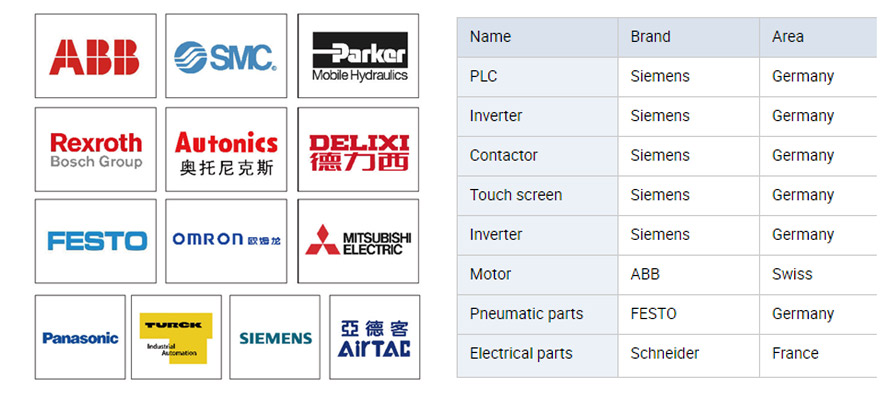 Flow chart: (Pure water filling machine):
A)Bottle production line

PET Resin --Injection moulding machine -Botlte blowing machine --PET bottle
B)Water treatment system
Raw water--Pump--Silica sand filter--Carbon filter--Water softner--Reverse Osmosis -UV sterilizer-Ozone generator--Finished water tank
C)Filling&Packing part Bottle unscrambler--Air conveyor--Washing,filling,capping 3in1 machine--Light checker--Blow dryer--Dater printer--Lableing machine --Packing machine -Stock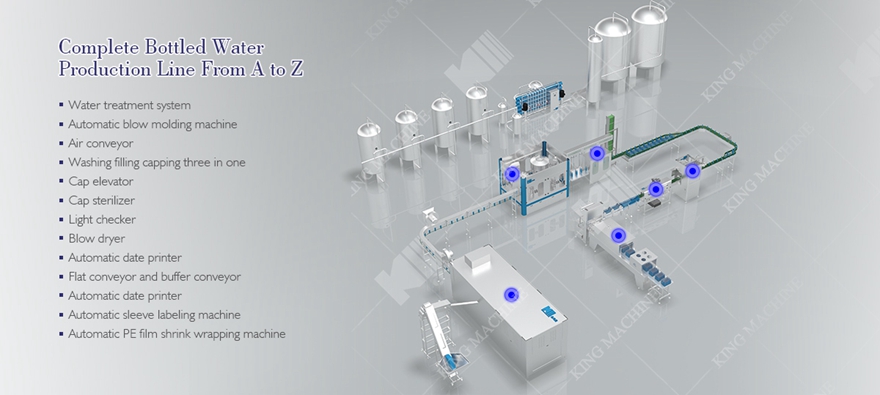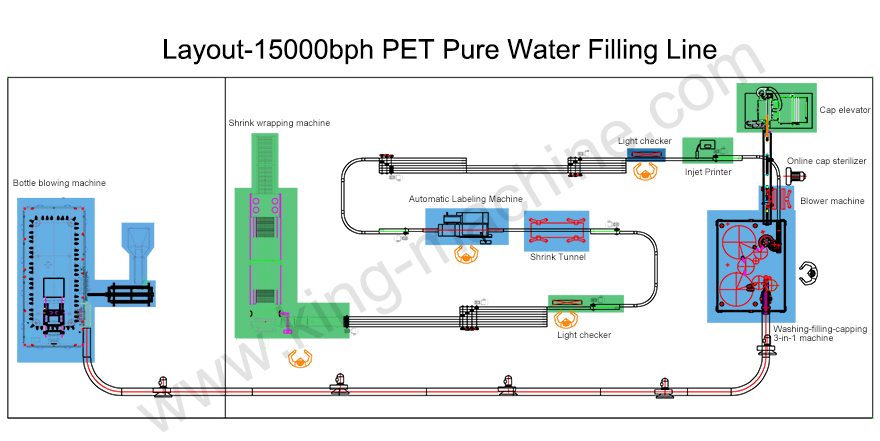 King Machine is ...
*Standardized workshop of total 12,000 square meters.
Different types of processing units, such as water jet cutter, plasma cutter, laser cutter, CNC machine from Taiwan chevalier & korea daewoo, ensure the precision of parts.
*International certification, National Certificate of equipment verification, and more than 30 invention patents
Verification Certificates of equipments: ISO9001:2001; CE Certificate , SGS , COC , TUV
National Certificate of equipment verification:standard organisation of Nigeria , CNCA certificate, Logo trademark registration, etc.
*The equipment will be tested and run for 24 hours before leaving the factory, to ensure the smooth working of water pipeline, and pneumatic, electrical and mechnical stability.
*Sufficient stock of spare parts ensures the timely delivery and supply of spare parts.
*The engineers are experienced. We can produce different products with different capacity and work out reasonable flow chart as per customers' requirements to save space.
*Professional installation team who can speak fluent English can help customers make benefits in a shortest time.