Why King Machine can gain trust from customer?
Author:King Machine Publish Time: 2018-03-05 Origin:Site
Bottled water filling industry has entered an intense competition situation, For beverage machine manufacturers, it is important to maintain customer relationships well, King Machine has a good relationship with our customers. let's see an example.
The key to maintaining a good customer relationship is to consider the customer from the customer's point of view, King Machine did it well, such as Sri Lanka customer who bought the pet bottle blowing machine in July, 2017, he came to King Machine for inspecting the machine manufacturing process in October,2017, and talked another water filling production line for his plant expanding, he meant to visit some other factories for price comparing and quality, but when he saw the machines we produced, he chosen to trust our quality and service. he ordered the monoblock water filing production line and water treatment machine.
The customer came to King Machine on 27th, Feb, 2018 for another 5 gallon water filling machine inspecting and tested the water filling production line at the same time, so we have a very good relationship with customer.
So why customer trusted King Machine so much?
1, King Machine satisfied what customer needed
Sri Lanka customer wanted to build his own water treatment plant at first, but he was not as confident as other beverage filling factories, so he chosen to buy pet bottle blowing machine as the business start, with the business scale expanding, he realized the market share is still large, so he gave it hit on water filling production line investment. he grabbed the market opportunity. when he came to King Machine, we gave his professional suggestion by building a bottle blowing plant as first on the safe side rather than water filling factory, we did not give his progressive advise driven by profit.
2. Smooth communication situation and professional answer to questions
When you talking with the customers, they have many questions need to be replied, our salesman gave customer response directly and correctly. then make the customer feel professional and good customer service.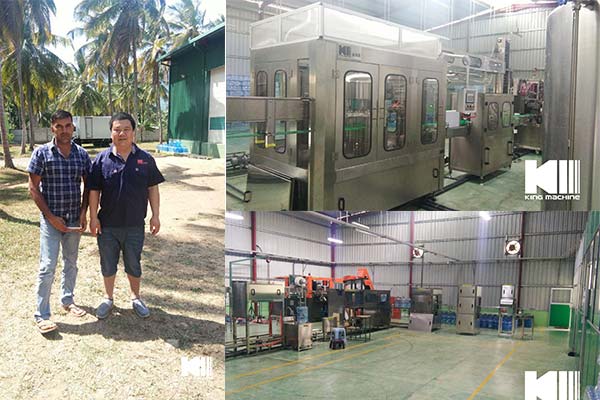 Customer has left with our debugging engineer days ago, he sent our email about the situation and let's see more. we will keep our principle as ever, become more and more reliable to customer.